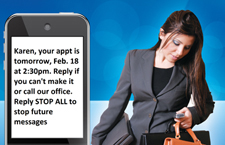 Mobile marketing should not be overlooked as a strategy for connecting with existing customers or attracting new customers to your business.
Do you own a cell phone? How far away is it right now? How quickly do you usually open a text? Today more and more people are going mobile. Their cell phone is usually within arm's reach and the majority of text messages are read with three minutes.
This makes mobile marketing the ideal way to quickly communicate your message. Mobile is trackable, interactive and a more personal way to interact with consumers. With mobile marketing, we are finally able to put our message directly in the hands of consumers. From creating mobile scan bar codes to direct customers to specific web pages to sending SMS text message notifications to provide customers with special offer coupons and appointment reminders. Marketing your business through mobile platforms is becoming a must have strategy.
Direct Results with Exceptional Service